Forbidden Love: Willians Astudillo
Forbidden Love is a Cubs DNA series where our staff waxes poetic about a player on a team other than the Cubs. Maybe even one you think they should hate. In this installment, Tina tells us of her love for Minnesota Twins Super Utility Player, Willians Astudillo AKA La Tortuga.
La Tortuga, Pic courtesy of USA Today Sports
I first became acquainted with Willians Astudillo in July of 2018 when the Twins and Cubs played in a wild, high scoring Inter league series at Wrigley. In the second of the 3 games, I noticed there was an unusually built player running around the outfield and I said to myself, "who the heck is that kid out there? He looks nothing like an outfielder." As it turns out, that game was his MLB debut. The next day, he played 3rd base and had a couple of RBIs. I think even a couple of us might have even called him Bartolo's love child.
And then in September of that year, this tweet became viral, and the rookie quickly became a sensation and cult figure. At 5'9" and 225 lbs., La Tortuga (a moniker given to him by his teammates) quickly endeared himself to baseball fans by saying, "I just wanted to show that chubby people also run." Who doesn't love that energy??
The 27 year old became so popular that the Twins had La Tortuga t-shirt night last April, with Astudillo having less than 150 at-bats at the time of his theme night!
This is a sweet t-shirt!
Twins Manager Rocco Baldelli seems to enjoy La Tortuga's versatility. As of last season, Astudillo has played every position except shortstop, mostly playing third base and catching. This video below from YouTube shows some of the highlights from his 2018 season, some against some familiar faces. Also, the video gives reference to this funny face plant GIF, which, if you didn't see the entire play, you would have thought he was a total klutz. Instead, he managed to wing the ball to 3rd base to get the runner at 3rd.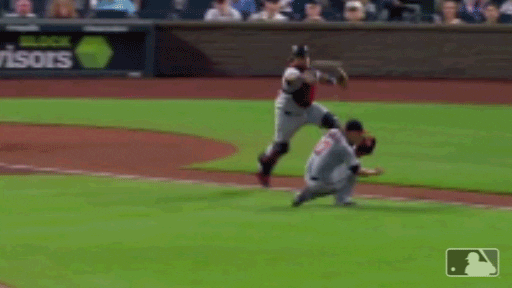 Known as a free swinger with a high contact rate, he was optioned to AAA after he cooled off from a hot start at the beginning of 2019. An oblique injury also ended his season prematurely. Hopefully he has a good spring and makes the roster. At the moment, he looks to be on the fringe at catcher and at third. C'mon Willians, baseball needs your CHONK energy!
Also, I bequeath him to be King of the Chonks! He and Bartolo actually tied TWICE in our polls but since this is my post and my bracket, I get to break the tie. Them are the rules.