Forbidden Love: Noah Syndergaard
Forbidden Love is a Cubs DNA series where our staff waxes poetic about a player on a team other than the Cubs. Maybe even one you think they should hate. In this installment, Tina tells us of her love for NY Mets pitcher, Noah Syndergaard .
Last week, Staci wrote about the magical correlation of Jacob deGrom's haircut and his pitching excellence the last 2 years and I wondered if that could work for his Mets teammate, Noah Syndergaard, AKA Thor.
Pic: CBS Sports
Look, I love Thor, he's a young (27) talented pitcher with 5 pitch arsenal and 100 mph fastball, but we need to talk about this important topic: it's time to cut the hair. (Thor, if you are reading this, don't be mad!)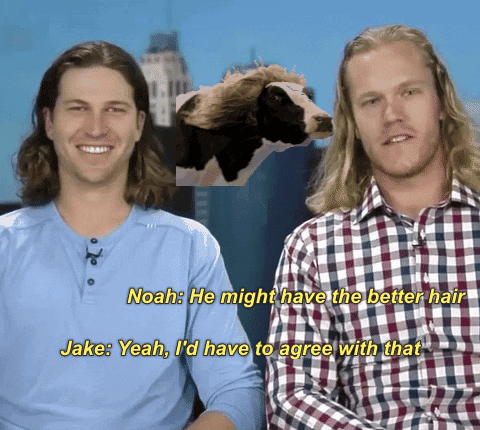 I have to agree with this gif
Do you think he can still be called Thor and appear on a show called "Vikings" if he cut his hair? Sure. There are things called wigs.
Athletes are superstitious, and perhaps Thor is the same way with his hair. He alternated with ponytail and man bun a few times last year, to uneven results. So when he decided to wear his hair down, it caught notice from fans:
However, look how handsome he looks when his hair is nice and tidy!
Imagine if he had that nice, short hair, maybe it wouldn't get in his way while he's getting swole.
He's been working out a bit at the beach, hasn't he?
However, I can't say if a short haired Thor will still be appealing to Mrs. Met ...
But heck, Thor, why not cut the hair and find out if #HottiedeGrom's short haired mojo will rub off on you? Care free, low maintenance do = more time to work on conditioning and mechanics! And you won't be the butt of people's jokes!
This is one old lady's opinion, but think about it Thor. The short hair could work out for you too.