Courtesy of the Associated Press
I feel like we don't appreciate enough what we have in Yu Darvish, so I thought I'd break down why he is such an amazing addition to the current Chicago Cubs ballclub. Join me, won't Yu?
1. Yu is funny.
Whether intentional or not, I find myself giggling at Yu more often than any other member of the Cubs. Sometimes, it's a facial expression: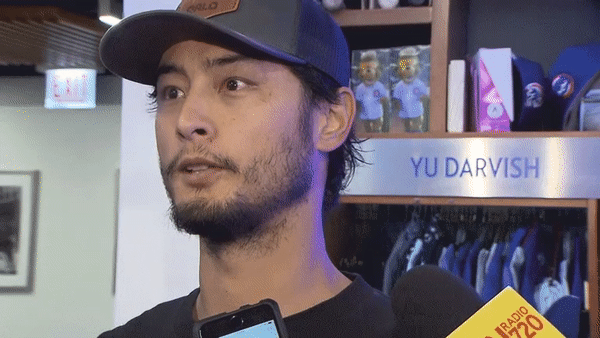 Yes, someone farted. No, for real.
Other times, it's a sly sense of humor that pops out when you least expect it. Yu might recall 2019 spring training, when Yu struggled with a blister on his pitching hand and had to undergo treatment for it. Rumblings from the clubhouse were that teammates were encouraging him to, um, urinate on it to help it heal faster? (Ballplayers, amirite?) Yu insisted he would not. No way. No pee. Nuh uh. But later on, when excellent new MLB Cubs beat writer Jordan Bastian asked him about it, Yu... changed his tune.
I mean, he didn't, did he? Not really, right? But maybe...? Whether Yu did or didn't, it was a hilarious moment that gave me a GIF I've gotten way too much personal delight out of using. We love this so much here at Cubs DNA that it's even become a Yuphemism for when Darvish is having a great outing. "Wow, he really put the pee on it in that inning!" "Oh my god, SO MUCH PEE." Yu put a lot of pee on a lot of innings after the All Star break, and it gave us so much joy!
Yu is also not afraid to happily swat an internet troll here and there, much to the glee of those of us who live for that sort of thing. As I was working on this very post, Yu took another step toward securing his legend in Cubs lore with this little troll-squashing nugget:
Honestly, this man is a legend. There's already a t-shirt--go find one and buy it.
2. Yu is charming.
Last week Yu shared this photo of him as a child wearing a shirt that said "CUB."
Not only is this adorable, but I believe it's Yu's way of telling us to stop worrying about him opting out of his contract. And after the second half he had in 2019, no sane Cubs fan should want him to go anywhere--especially if MLB "un-juices" the baseballs.
Even when Yu corrects someone, he does it in a way that couldn't possibly make that person angry. Just ask Cubs DNA favorite Rob Friedman. You probably know him as the Pitching Ninja, that awesome guy who shows all the pitching grips and tunneling via GIFs online and during MLB broadcasts. (Follow him if you don't already!) During the second half of the 2019 season, Yu was throwing 9 different pitches, so one could forgive PN for getting a few of those pitches confused, right? But then here came Yu...
Oh. Well, I mean... it's tough to keep track when a guy throws 9 different pitches, right?
Yes, Yu learned a tenth pitch, a knuckle curve, with no fanfare, no big pronouncements, and just started dropping it on fools during games as a wipeout pitch. Poor PN--he had no idea what hit him!
3. Yu is quirky.
Scrolling through Twitter one evening, I happened upon a retweet of this video espousing the virtues of using a bidet.
I follow a pretty diverse group of folks on the website, but I was in my Cubs list and I needed to know which one of my follows was so devoted to this method of hygiene. Wouldn't Yu know it...
Personally, I feel a little better knowing that my ace likes to keep things fresh and clean, and doesn't mind his 2.1 million followers knowing it either. It's comforting!
Yu is also a regular, devoted Fortnite player and often invites fans on social media to come play with him. I've never taken him up on it, but this is just one of the many ways he interacts with the public in a way you don't often see with public figures like him.
4. Yu is honest.
Yu's injury struggles in 2018 are well-documented, so I won't rehash them here. In the aftermath, though, Yu was refreshingly honest about his confidence struggles under the weight of the contract he signed with the Cubs. He was also forthright about his desire to better connect with Chicago media and the fans, ditching his interpreter and committing to speaking English to the media during the 2019 even if it meant running the risk of being misinterpreted from time to time. (It has worked out brilliantly and maybe saved Cheap Ricketts some money.)
5. Yu is a class act.
Now I have to bring up something ugly and much less fun.
During the 2017 World Series, Yuli Gurriel of the Houston Astros was "caught" making a racist gesture aimed at Yu after he hit a home run off of him in game 3. It was appalling, uncalled for, and many people including myself still feel like Gurriel was never appropriately punished by either MLB or the Astros for his unacceptable conduct.
Gurriel apologized after a fair amount of media furor, was allowed to finish out the postseason, then received a 5-game suspension which he essentially served in lieu of being on the disabled list.
While those of us on social media gnashed our teeth and called for his head, though, Yu remained composed in a way I'm not sure many of us could have.
Yu also ignored near-constant shots at his manhood, his mental toughness, and his overall make-up from the Chicago media, fans, and even a former teammate while he fought to recover from the elbow injury that kept him sidelined for most of 2018. While a lot of guys would've lashed out, he just continued to be gracious and worked hard to get back on the mound. Eventually, he even got to own a few of them when he was fully recovered and having an excellent second half in 2019. (Do yourself a favor and search "Yu Darvish David Kaplan" on Twitter, and watch Yu own the biggest meatball in Chicago sports media. Man up, Kap!) Cy Yu-ng 2020, here we come!
Ultimately, all of this adds up to one of the most delightful humans to wear a Cubs uniform in a very long time. If he continues to perform the way he did after the All Star break, he could be one of the most delightful Cubs, period. Enjoy this man, people. Yu deserves it.